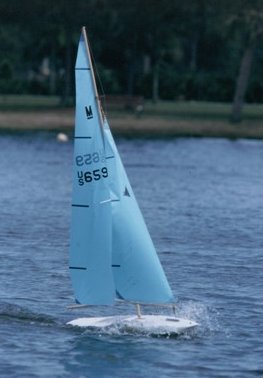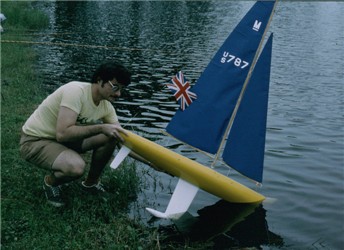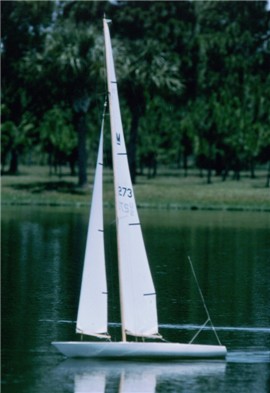 The 50/800 or Marbleheads are a class of R/C sail boats. They are typically controlled by a 2-channel radio, one for the rudder and the other for the sail control unit (or winch).
There are a few rules (basically, 50" hull length, 800 sq" maximum sail area, plus a few more rules) that apply to this class. It is considered an open class as opposed to a one design class (i.e. East Coast 12-Meter) where rules are considerably tighter. Most of these boats weigh between 10-20 pounds.
I made three boats in this class. First a scratch built flat chine hull (top, left), hence the ability to plane under sail. (I built it the hard way: make a plug, then make a mold, the cast the boat, with the mold and finished boat all fiber-glassed.) This boat was an excellent performer in high winds and would actually go up on a plane and skid across the water.
The Vortex Soling (right) I bought used from a friend that was no longer able to sail it. This boat is based on the full size Soling class boat.
Last, the British Moonraker (top, right) which I bought the hull in England at the factory. I made the deck, keel, rudder, etc. I made the high aspect masts and sails for all of these boats.