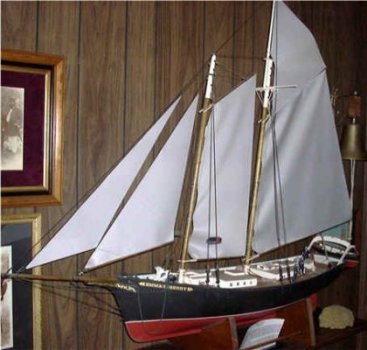 The Emma C. Berry model is based on the actual ship located at Mystic Seaport, Connecticut. (I remember seeing it there when I was in my early teens.)

The model (left) , which I built in the mid-1970's was manufactured by Sterling Models. It is about 50" long (bow spirit to main boom, tip to tip).

I increased the details in many places. A major modification was fiber-glassing the hull, making it extremely strong. (The original model's hull was fitted balsa sections over bulkheads.)

The sails are actual lightweight sail material obtained at a local sail maker's loft.

My original intent was to have it radio controlled, but I never went that far. As I did see one of these actually sail under R/C, I had also added some lead in the keel. This model did sit in the water at a mall hobby show in 1976.








Bow and stern views: