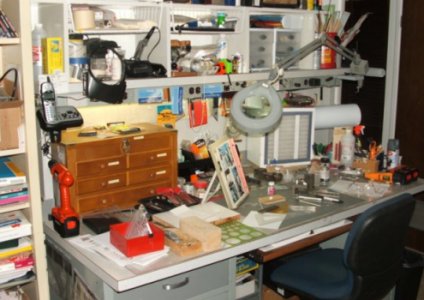 Here is my favorite workplace! It is a "Electronics Lab Bench" that I bought at a close-out sale from a firm that was cutting back.
The bench itself is probably 30 years old. But for $150, you can't beat it at five times the price!
Thick top 3 foot X 6-1/2 foot standing 36" off of the floor. Metal roller drawers on both sides provide good storage. An upper shelf with a power strip has plenty of outlets.
I added more shelves on top, and lights under the main shelf (which I raised another 4" to clear the work space.
The addition of the goose-neck magnifier light aides in working with small parts. A keyboard shelf is a good place to put instructions - pull it out for a look -push it in to be out of the way.
I can work on my models as my model boats with the nearby computers playing nautical music or perhaps my favorite DVDs, "Quigley Down Under" or "Master and Commander."