Phil's Hobby Shop (Pinellas Park, Florida)
(Defunct) Bay Area Electric Boaters (scale model boats) 2007 regatta video
Riding the Small Rails Follow along on a trip through Largo Central Park on a train pulled by a $100,000 live steam locomotive.
Civil War (living history)
U.S.S. Fort Henry - Find out about the role of the Union Navy in Florida during the American Civil War (1861-65). Site has plenty of photographs and information as well as researched data on Florida during the Civil War.
Videos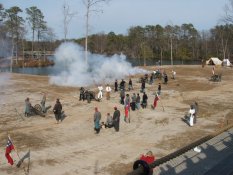 Monitor Center
The artillery demonstration at the Grande Opening of the "Monitor Center" at the Mariners' Museum (Newport News, Va.) in March 2007. Includes "Old Tom" a 12-pounder Dahlgren as well as others.
Lincoln on the Cheesebox (U.S.S. Monitor) Perhaps a hoax video, but a little fun with "Lincoln" by the turret with the officers at the Monitor Center.
Lincoln on the USS Monitor The original video of Lincoln on the deck of the USS Monitor replica. Includes reenactors and Mr. George Buss as Lincoln.
Mariners' Museum tour March 2007 A quick tour of the Mariners' Museum (also see the Monitor Center tour, next) as both were video taped together. This video is of the main museum.
Monitor Center tour at the Mariners' Museum. This is a quick video tour of the Monitor Center (which compliments the Mariners' Museum tour, above).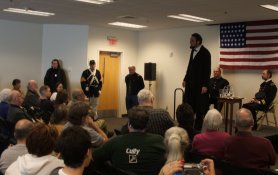 Lincoln's Speech & Press Conference Mr. George Buss portrays Lincoln holding a state of the union address and press conference, modern style but set in May, 1862. This was held at the Monitor Center on March 10, 2007.
Lincoln's Thoughts A rare glimpse of Mr. George Buss portraying Lincoln while readying himself for a speech and press conference at the Monitor Center.
Model Ironclads This video was taken at the Mariners' Museum March 2007 of model Ironclads on display and operating under radio control at the Monitor Center. Boats made by the "Old Navy" and transported from California across the country for the event.
Lew's Ancestors (web site)
Rees-Goman Information on Lew's link to history and his ancestors. Lew's great-grandfather was Private Thomas E. Goman, Company K, 57th New York Volunteers. Goman's wife' grandfather was Evan Rees (Lew's GGG-grandfather), born about 1763 in Wales.
Goman enlisted in September 1861 and mustered out (discharged) in September 1864. Follow Goman and the 57th NY through most of the major battles involving the Army of the Potomac in General Hancock's II Corps. Manassas, Siege of Yorktown, Fair Oaks, Peninsula Campaign, Sharpsburg, Antietam, Fredericksburg, Gettysburg, Rappahannock, Spotsylvania, and many more!
The Rees family moved to Canada in about 1820, and son Dr. Ambrose Rees settled in Coldspring, New York. This web site has a family tree dating back through Goman to Evan Rees, and includes photographs and images of old documents.