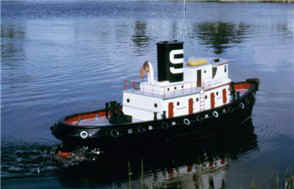 I built this tug in 1973/74, and it was my first radio controlled model boat. It was developed from a plastic model which was scaled up at a ratio of 3:1 giving it a final length of 42 inches with weighing in at about 35 pounds. The plastic model was measured and redrawn at the larger scale. Construction of the large model was started using plank-on-rib, mostly 1/8 inch balsa. The outside of the hull was strengthened using fiberglass cloth and polyester resin, resulting in a very strong hull.
A homemade propeller (soldered brass blades on a brass hub) mounted on a brass shaft running through a brass tube (stuffing box) never leaked water into the hull.
The radio control unit was a 4-channel Heathkit. One channel for the rudder, a second channel for speed control (servos driving switches with resistors resistors giving 3 speeds), and a third channel for direction (forward-reverse). Driving the prop was a heater fan motor taken from a junked car. Power was from a motorcycle battery.
Most of the sailing was at Lake Seminole Park, Pinellas County, Florida. The tug was always reliable as the battery performance would indicate when it was time to recharge. I fashioned a rescue hook which was used to rescue sailboats when the wind died. The model has been assigned a position on a shelf (mothballed).