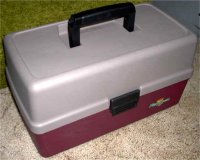 I've seen a lot of tool boxes used by model boaters. Big, small, home made, store bought, and even cardboard boxes. Everyone has their own and I am no exception. However, I have frequently seen many people struggle to find something to

make that away-from-home repair

.
This is my third - and best solution!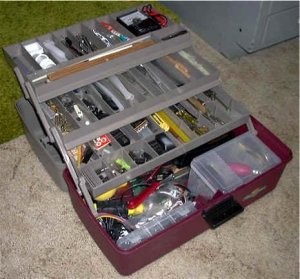 Like my previous boxes, I selected a fishing tackle box. Unlike tool boxes that are on the heavy side, these are light and durable enough for rough handling by fishermen. I purchased this one in Walmart. It is a "Flambeau" brand and measures 17" wide, 9" deep, and 10" high. When opened (as you can see) there are three trays with plenty of compartment, many of which are adjustable. The box even came with a removable compartment (lower right) to store more parts and tools.
This box makes organization very easy, but what is more important is what is in the box!
I divide this into basic groups:
1. Tools Don't forget that little meter for checking circuits.
2. Adhesives and fasteners Tape, super glue, 5-minute epoxy, small screws, etc.
3. Replacement parts (You know what you need.)
4. Raw materials Strips of wood, metal, plastic - all sorts of stuff!
Kobalt Hobby Box - what a find!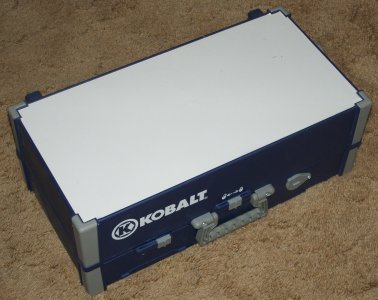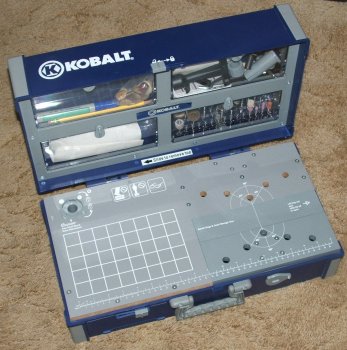 I happen upon a small clearance sale at Lowe's Home Center and found this neat hobby work center. Lowe's store brand is "Kobalt" and apparently they do not carry this any more. However, here is what it is:

On the outside there are two storage compartments. Open it up and there are four in the removable cover. There are parts to make a hook stand for your rotary drill tool and a crank to open the vise (right side) as well as some shoes for the vise. This is one hot tool for helping with repairs while out at the pond.