Historic Steam Tug Frederic Mistral
The long history of the Frederic Mistral is quite interesting, and perhaps unusual for a tugboat. After about 100 years, the Frederic Mistral is still operating on the Danube River, now around Vienna, Austria. It is one of the last functioning steamboats in Vienna.

The Mistral (named of the French poet, born 1830 - deceased 1904, was built for Austria by a shipyard in the Netherlands in 1914. It navigated under the French company "SFND - Société Française de Navigation Danubienne" (hence the markings on the stack) in Paris, which was the oldest company working in Rumenia. It served Emperor Franz Joseph (first) as his undercover "survey" boat. His hidden private room can still be visited.

It is 26.5m (87 feet) long, 5.40m (17.7 feet) wide, maximal draught 1.80m (9.9 feet), and displaces 145 tons. The top speed is 17 knots. The maximum load is 37 tons. It was changed over to oil in 1985. Normal crew of 8. The 250 HP engine: is an alternative - triple expansion, driving a four bladed screw. The superstructure is all steel, except for the bridge, which is wood.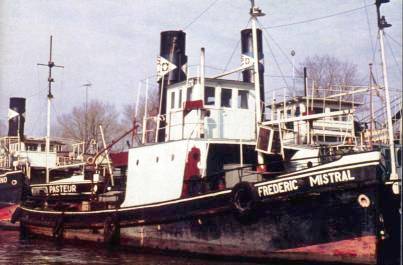 Shortly before World War II started (1940), German agents raided the ship after a shoot-out near the "Eisernen Tor." During the war, the Mistral and the Pascal (another tug) were converted to mine-sweepers and in 1944 fell in the hands of the Russians who transferred them to Yugoslavia. There the Mistral served as a navigating command post to the partisan leader and future leader of the state, Tito. In 1946 the two tugs were returned to the French company. Based on a special treaty with the ruling regime, they used them as tugs for French ships in Romania.

When Captain Scheriau discovered the boat in 1998 in Romania, he launched a campain to search for local contemporary witnesses who would tell him details of the vessels history. After towing the boat from Romania to Austria, Scheriau restored Frédéric Mistral and made the steam engine operational again. In 2005 the first fully steam-powered Danube tour took place.

The fact that the Mistral had not sailed in salt water is a factor helping her preservation. Another factor is the construction, which is very solid and simple, made to last a long time reduce repairs keeping operational costs to a minimum. One example is the rudder system, which functions via a long chain, going all along the sides, from the bridge back to the rudder. If it broke, they only had to repair a chain. Until the 1970's the crew had kept their own livestock on board, keeping chickens in a cage suspended on the mast in front of the bridge, and a pig (or maybe some pigs) on the rear deck in a cage behind the towing hook. The pig was for doing business along the Danube. In 1985 the boat appeared old in photographs, but in rather good shape. Not much maintenance, but it had been paint once and a while.

On the engine's water tank is a brass plate of the steam engine manufacturer:
"N.V. MACHINEFABRIEK V/H SCHIPPER & VAN DONGEN" at Geertruidenberg (Holland)