Figures For Model Boats
Introduction
Adding a crew to a finished model to add character to the model. Commercially available charactersof every scale and period are not readably available, so below is some information on how to adapt figures from other periods for a specific model. 1/35 scale characters are abundantly available, but mostly in military uniforms. Of this group, WW-II is the largest sector. There are landing craft crews which can be adapted to many other boats. I had the biggest success with WW-II German soldiers.

As an example on how to add material, take a figure that has combat boots. By building up the lower leg and ankle with "Green (or whicte) Stuff" - which is available in most hobby stores - or JB Weld (faster is JB Kwik), then sand or file to shape, including creases in the trousers, you can wind up with the figure having work shoes. Look elsewhere on this site to see my boat crew figures on board the various models.
---
German Sailors (for Schnellboot Wiesel)
When I had purchased the Wiesel I had no intention of adding a crew. Later, I decided to add a crew but found nothing that would replicate a 1/40 scale West German naval crew of the 1970's. So I looked to the variety of 1/35 scale figures, most being from the WW-II period. (A five-foot-eight person at 1/40 scale equals 1.7 inch, and at 1/35 scale, 1.94 inch tall. This means the 1/35 scale figure would be a scale six-foot-six in 1/40 scale a bit tall, but not that noticeable on a ship.)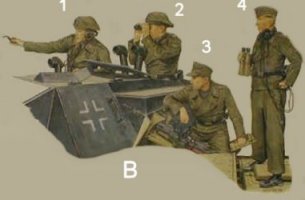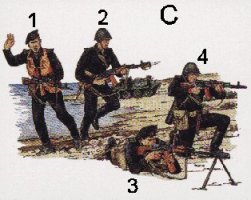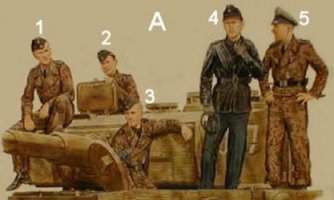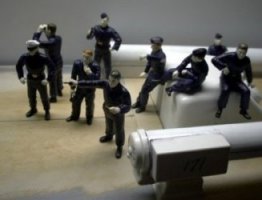 All of the figures shown came from the above kits (box covers shown). Extensive cutting and filling, along with removing and adding parts, plus movements of arms and legs were made to achieve the above. In some places limbs and torsos were cut and re-cemented in different orientations.

The figures in the photo above are not in their actual places on the ship (placed here for this article only). I had to make a crew representing some of the total crew of 40 for the Weisel. To make up the deck crew, I chose DML figure kits 6028 above "A", 6029 "B" and 3005 "C" kits. This gave me 13 men to position on the ship. The result of carving away many details and building up a few other areas, and using a different paint scheme can be seen by comparing these box drawings to the photos of the Wiesel as well as the photo at the left.
---
Civil War U.S. Marines landing ashore (diorama)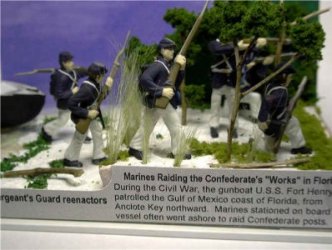 The diorama to the left has figures that were part of a bag (about 20) of toy Civil War soldiers, costing about $3.00 I picked the best six and painted them as Marines. Careful trimming and painting of these less than 2-inch figures came out rather good. The biggest problem was the type of plastic (probably polyethylene), of which nothing would adhere, super glue, epoxy, plastic cement, and anything else did not work. To preserve the enamel paint, a final matte clear coat was applied.