Designed & Printed by Lew's Model Boats and Shipped to you.
Get this unique trailer for your new 1/16 scale R.C. Heng Long (#3898-1 - TK-6.0) or other brand M4A3 105mm Howitzer Tanks or for other tanks and vehicles that towed the M10 trailers. The M4A3 (105) tanks typically towed this trailer as the tank was limited to the amount of rounds carried inside.
---
Photos of the M10 Ammunition Trailer (prototype) - 1/16 scale Model by Lew
The six photos below are of the prototype taken on November 6, 2020. A number of improvements will be made for the limited production models. This will improve finish, accuracy and function. The limited production run is expected to start August or September 2021. Inquires or show of interest is available now via email. Reservations soon. To see a larger view in Google Chrome, right select photo and select "open image in new tab".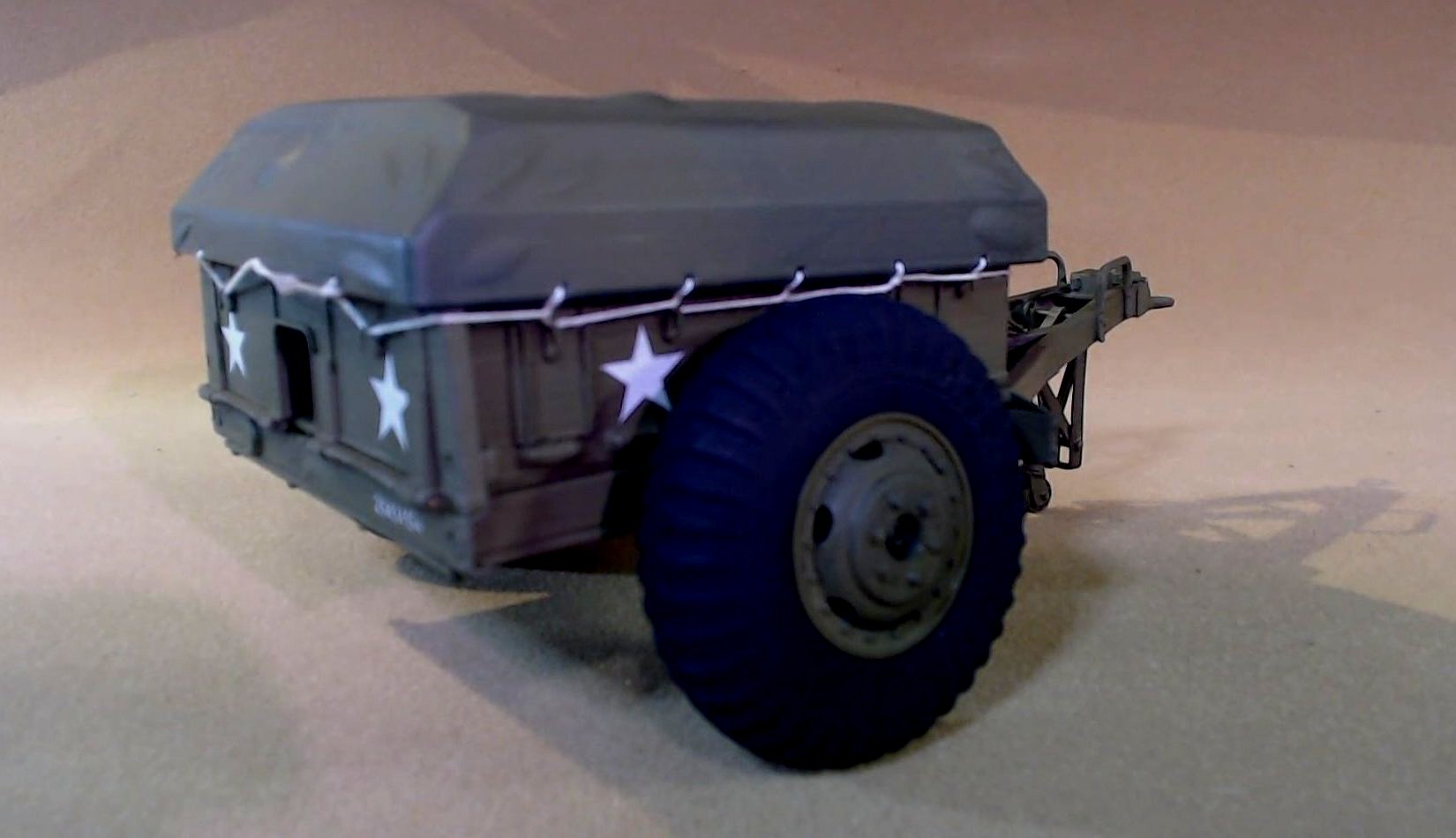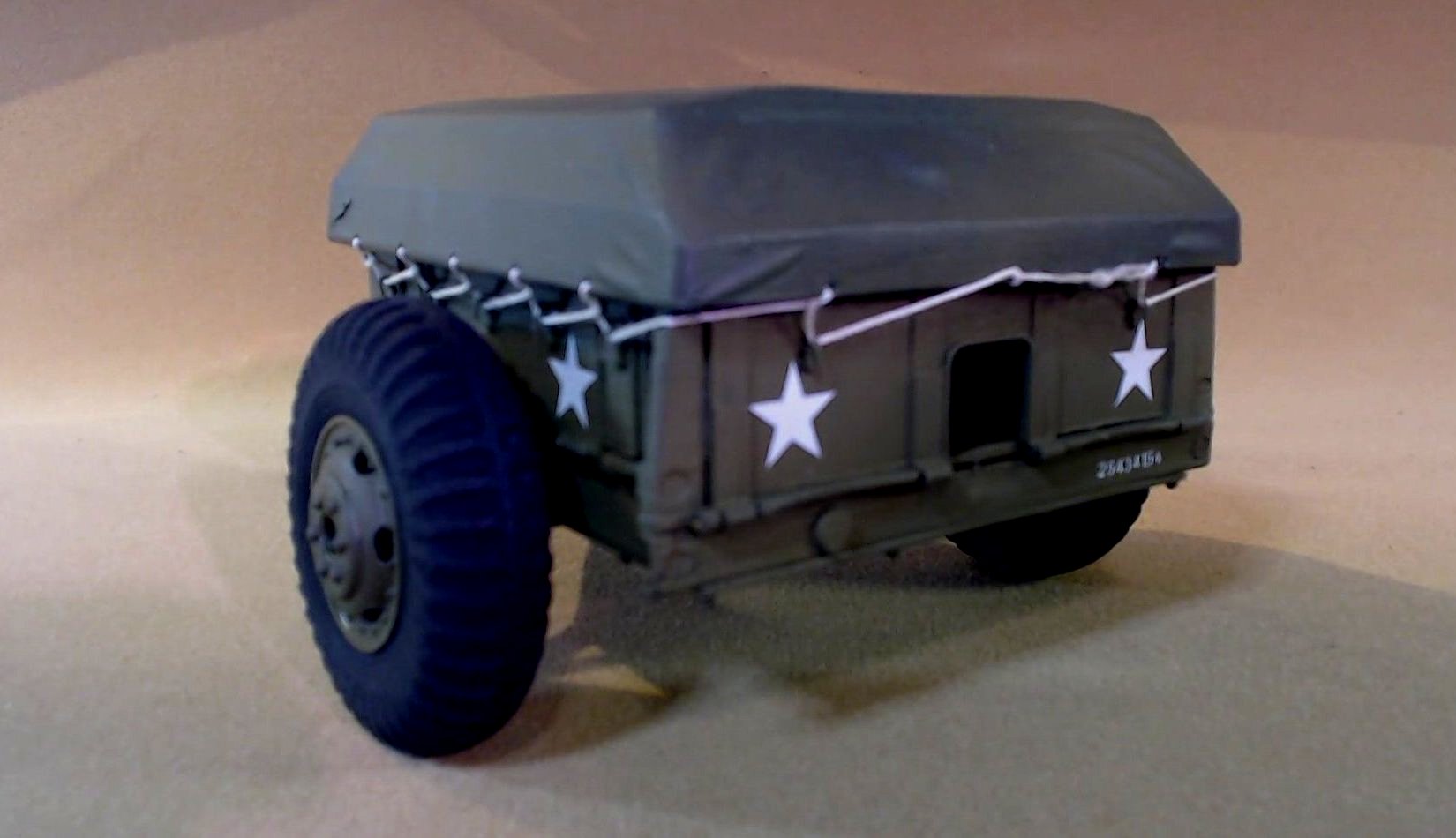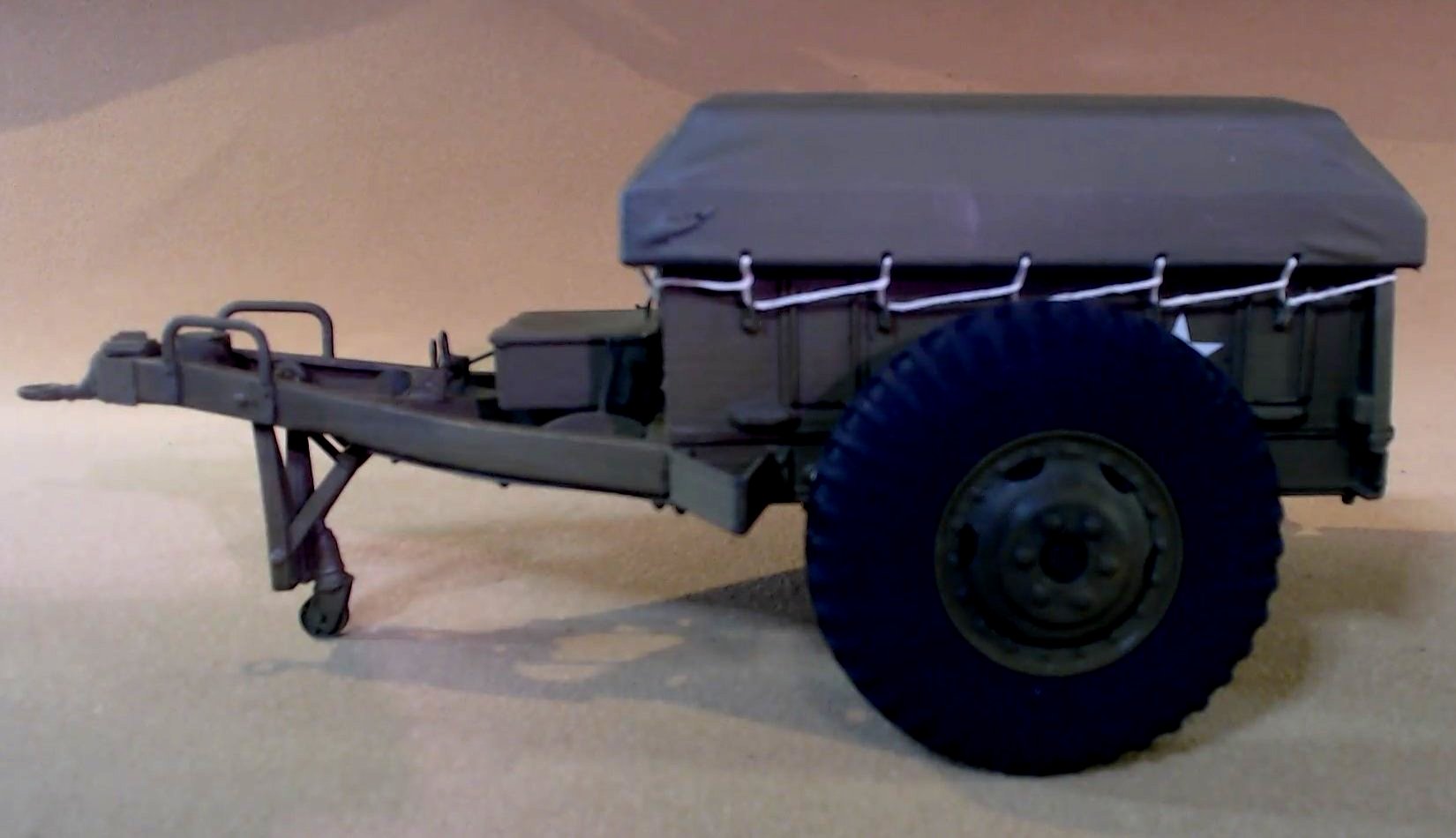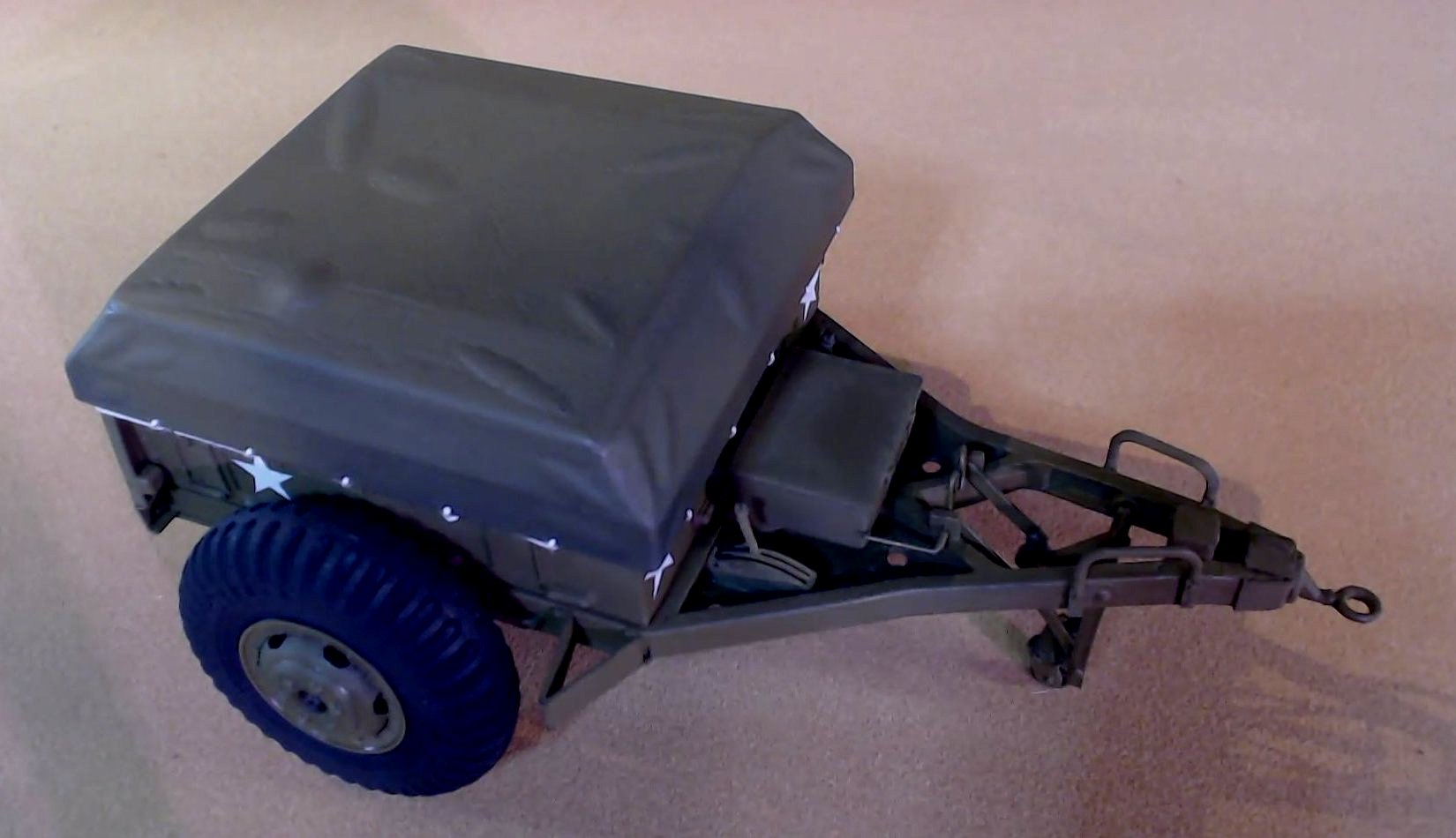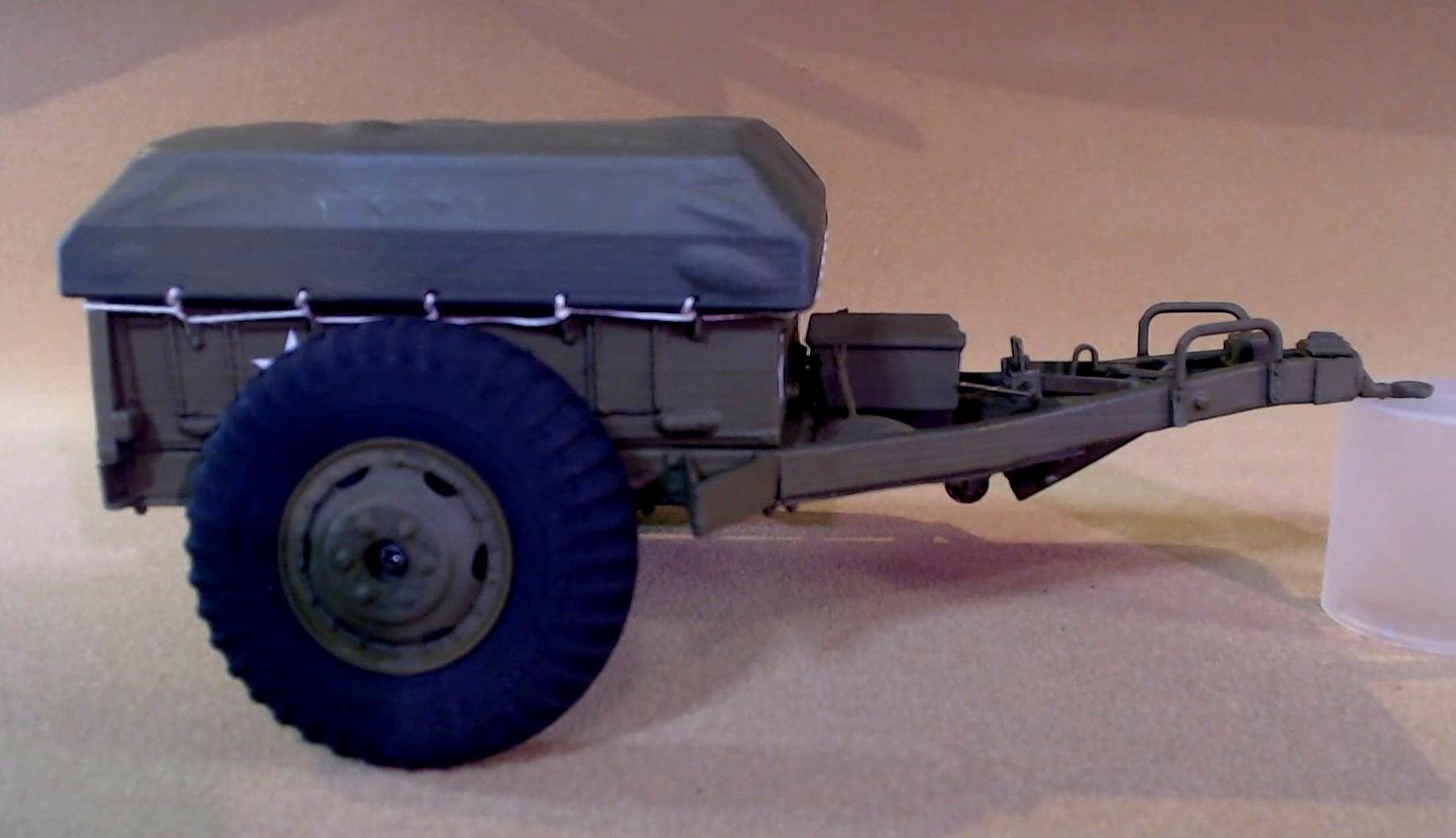 Current Status:
The prototype was completed November 6, 2020. Several improvements were made to the 3D design, including recesses in the bed for tie-downs (for those that want to display the bed open). On November 13 two "first run" model parts were started (printing and assembly) which will be used to further tweak the model parts, mostly to allow better fit resulting in reduce post processing of parts. When these are done a limited amount of models (probably around five) will be made available for sale in a test market. How that market goes will drive the decision on expanding production, and even that will be a limited production because of the limit of hand building these models.
Features: Large wheels rotate freely and the wheels/tires are removable via screws. (Castor wheel does not rotate nor swivel.) Dolly stand folds up like the real stand, however the lock-up crank does not function. Dolly stays up via friction. Tailgate opens and drops down. Not shown in photo is the pintle (hitch) that will be mounted on the rear of the frame to tow an additional trailer or 105mm Howitzer. Removable canvas cover in these photos was 3D printed. Future canvas covers are subject to change; may be vacuum formed or other material to reduce manufacturing cost (keeping the price down).
---
About The M10 Ammunition Trailer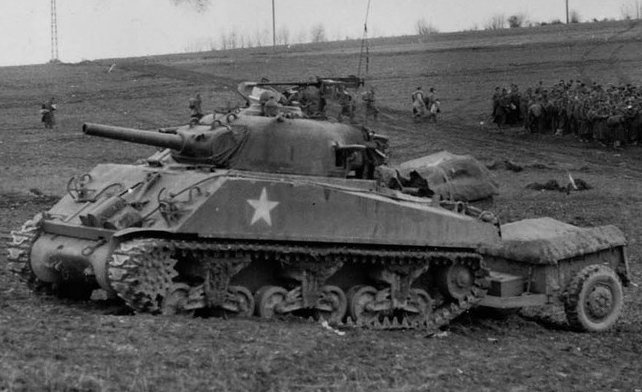 The M10 ammunition trailer was designed to be towed by M7 Priests, M8 Scott 75mm howitzer motor carriages, M4A3 (105mm howitzer) Shermans, and other vehicles, and the M8 howitzer motor carriage. It could be towed by many other vehicles, including 2-1/2 ton trucks, half tracks, armored cars, and self-propelled guns.
The M10 trailer weighed 2,090 pounds, loading height of 58 inches, and had 9.00 X 20 12-ply tires mounted on a fixed (no suspension) axle trailer which had two separately operated hand brakes, a simple hinged tailgate, two fold-down rails which supported a simple canvas cover
The M4A3 (105) Sherman medium tank was one of the first American tanks to be released with the American 105mm howitzer instead of the standard 75mm cannon. The M4A3 (105) is a support tank, not for tank on tank matches. Due to the 105 mm howitzer, it is very capable of knocking out the enemy crew in lightly armored vehicles. The 105 mm high energy round could also be aimed to blow enemy tank tacks off, then, a well-placed HE shell can easily set a tank aflame or blow up their ammo.
The M10 trailer was produced by Fruehauf Trailer Corporation, Youngstown Steel Door Company and Schlem Brothers from 1942 to 1945. There were slight differences in the finished pieces from these manufacturers. This trailer was designed to carry 117 rounds of 75mm howitzer ammo, 44 rounds of 105mm ammo, or 16 rounds of 155mm.
(More real photos at the bottom of this page.)


The M10 evolved from the M8 Ammunition trailer which was somewhat different in design. The M8 was completely enclosed on the sides had had multiple access doors on the top. As there was not tailgate so all loading/unloading on the M8 had to be accomplished through the access doors in the top which probably presented a challenge. The M10 had an open top which was usually covered with a tarp, and the drop down tailgate. The replacement for the M10 was the M332, somewhat bigger with a leaf spring suspension, but similar in design.

About this Model
This model was generated using 3D modeling software which was then sent to a 3D FDM (filament) printer. Data for creating the model was an extensive collection of photos and drawings. Numerous views of various angles were used to provide the detail necessary to create a 1/16 scale model as accurate as possible. Prints are made using Matter Hackers ABS black filament.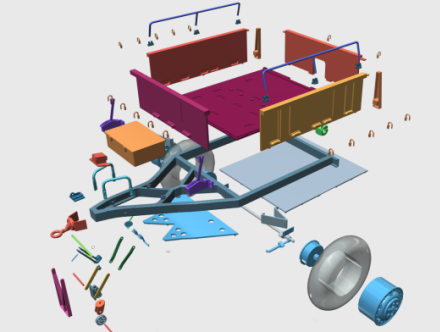 Parts are cemented using model melting cement (weld-cement) to provide strong joints. The two wheels (tires and drums) turn freely and are held in place by self-threading screws, so they are replaceable. The tailgate drops down. The dolly stand folds up so the trailer can be either towed or in a self-standing position.
Even though this model can be used with RC tanks, I do recommend some caution. This is not child-proof. In order to make the model as accurate as possible while trying to maintain some acceptable RC functionality (like moving around) there are some features that need to be handled with some care, not because of frailty, but just logical care. This is mostly in the front part of the frame, the dolly stand, brake handles, tie-down hooks, hinges, etc.
A lot of thought and research went into this model. As you can see in the "exploded view"
(right)
there are a number of parts that had to be made (almost all 3D printed), hand fitted, and post processed. Those familiar with FDM 3D printer know that when parts are removed from the printer there is clean-up required, support material removed, flashing, and surface irregularities made by the print head.
As this is not a molded parts process, money can be saved for low production runs, which is ideal for 3D printing. Low production runs such as this make the item unique and special.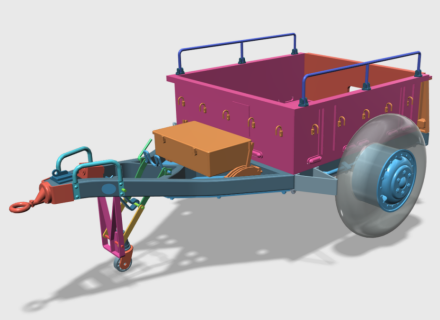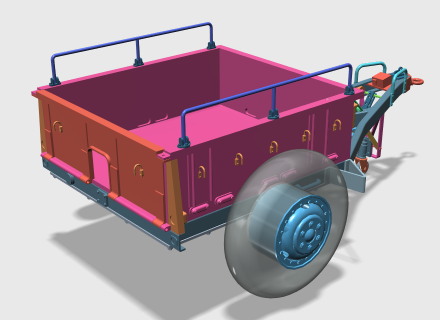 About the Model Creator/builder
I (Lew) am retired and an avid scale RC

scale

model boat and armor builder and operator. Being retired and enjoying the hobby, I am able to keep costs to my fellow hobbyists to a minimum. Work experience includes many years of test equipment design, product design as a Senior Designer. Later, in the mid-1990's, I was a Computer Aided Design Specialist (including 3D modeling software and hardware) for a large company where I was responsible for testing, buying, and maintenance of 3D CAD systems.

Since 2017 I have been using my own 3D modeling system creating models on Shapeways. In 2018 I purchased my own 3D FDM printer for my own builds as well as prototypes used to develop my products on Shapeways.
Customization
This product can be customized for a specific user's needs. One customization would be the scale. Although this was created to provide a lot of detail in 1/16 scale, using this model to create a smaller scale, say 1/35, might not be desirable as some features and strength would be lost (and there are 1/35 scale kits out there for about $40 (U.S.) but I believe out of production. 1/16 scale is the smallest feasible scale. Other larger scales such as 1/6, 1/8, 1/10, 1/12, and 1/14 are very feasible.
---
Ordering the M10 Ammunition Trailer
Send an email to Lew's Model Boats:

(Feel free to ask any questions.)
There are several ways this model can be ordered but the best (recommended) is to order it pre-built. There are a significant number of parts that are post processed (cleaned up) after 3D printing to remove flashing, etc. Unless you want to handle this it is probably not worth the time or effort to build it yourself. However, if you wish to do so, a quote will be provided. Normal painting is Olive Drab enamel. The complete assembly can be ordered either with or without decals.


Cost: $XX.XX

[determined when ready for production, but should be under $100]
(U.S.) plus actual shipping cost from Clearwater, Florida, U.S.A. Payment: PayPal only. Initial production shipping is expected to be the U.S. only, but may expand to be world wide later.
Ordering:
As the final prototypes are not completed yet, the ordering process is not available. This will probably be directly to me, but later on I might sell these on Ebay.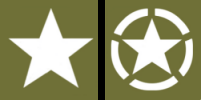 What you get:
- One - 1/16 scale model as pictured and described above.
- Model is painted O.D. (enamel) and has five star decals applied (no serial number or other lettering).
-
Currently, only the plain stars are available
. Eventually in the future, the stars with a broken circle may be available. (The scale 5-inch, two on front of bed, one per each bed side, and one on rear of bed) as shown to the right:
---
Photos of the Real M10 Ammo Trailer
Here are a few photos of real M10 ammunition trailers (many more can be found on the internet):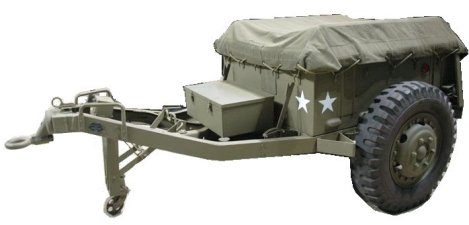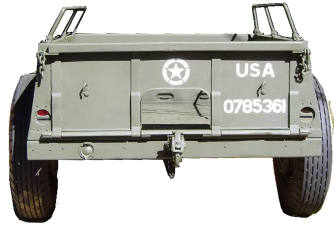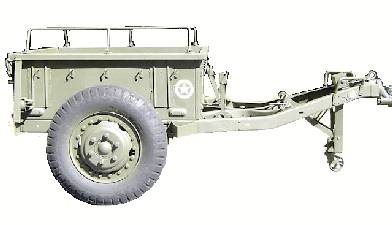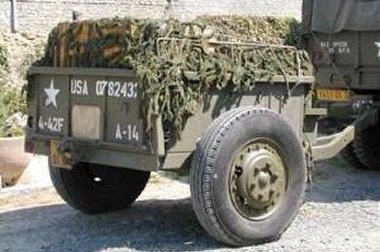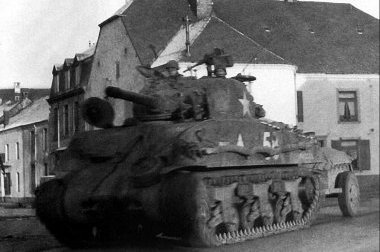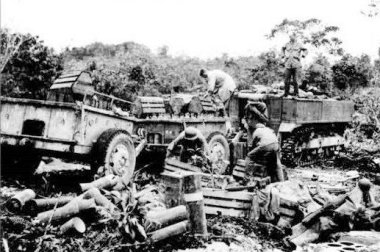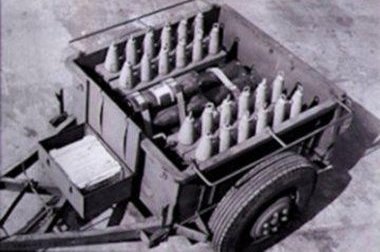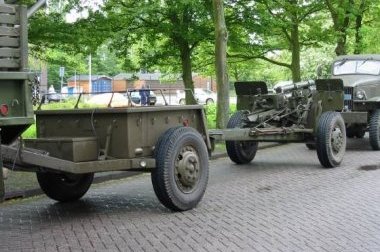 Updated: April 1, 2021