Correcting Incorrect Supplied Parts with 3D Created Parts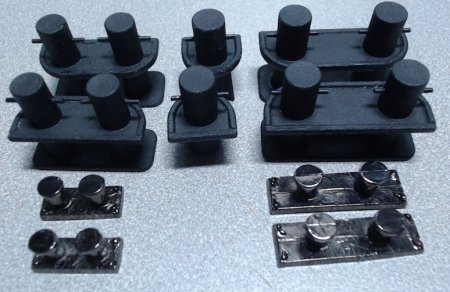 As mentioned many of the parts (as well as instructions to make parts) were incorrect. One example are the metal bollards supplied with the kit.
In the photo (
right
) near the bottom you can see the supplied four cast metal double bollards. Compare them with the 3D printed parts I made at the top half of the photo.
The differences are:
- Quality, obvious cast seems and flashing.
- Wrong size, obviously a considerable difference.
- Wrong shape, obvious again.
- Missing parts, in addition to the four double bollards there should be two single bollards which I made.
These are perhaps the worst examples, but there are many other parts in this kit that are not correct to make this "scale" model right. Numerous 3D parts are now awaiting installation.