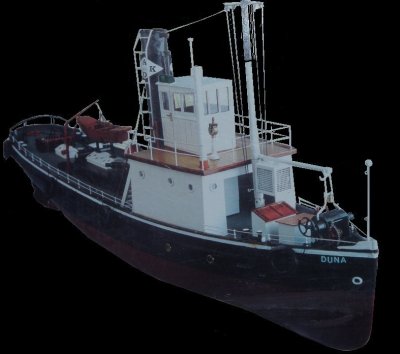 The tug Frederic Mistral was built from the Duna Anfora kit. After a lot of searching on the internet, on July 8, 2013 I discovered that the Duna is actually the Frederic Mistral. Anfora used a copy of the Frederic Mistral drawing to make the drawing in the "Duna" kit. Why they did this I can only speculate, perhaps because of some copyright infringement.

The model is 1/40 scale giving a hull length of 28 inches. The construction is mostly wood with a plank on rib frame. This interesting kit is supplied with may detailed parts, mostly in metal.

The kit is well packaged, with all of the detail parts in a vacuum formed divided plastic molding with a clear plastic cover. The instructions are divided in to steps and are very orderly. Some of the English translation is quite bad and a number of the of the construction steps are not well defined. Some parts were misidentified with wrong numbers and on part was missing; it had to be scratch built from 8 pieces. However, with some studying of the plans and instructions combined with the number of photos of the Frederic Mistral, a builder with good experience should make up for any undefined instructions. The kit went out of production sometime after 2002, making this a rare item as not many have been found on the internet.

Many of the wood parts snapped from panels did not go together. It was apparent that the designer did not compensate for material thickness for most of the subassemblies that formed some sorta of a box. Overall, I would give the manufacturer 4 stars out of 10 if it was a well made kit.
Select this link for historic information on the Frederic Mistral
Construction started on May 28, 2013 with the laying of the keel. Over the next few days a stuffing box (not included) was made and added to the keel, and the ribs were put into place. (Page updated July 24, 2013)