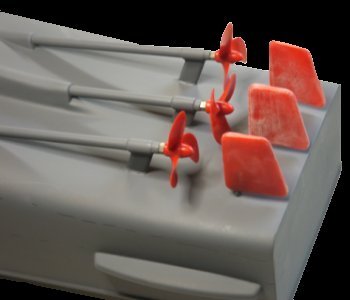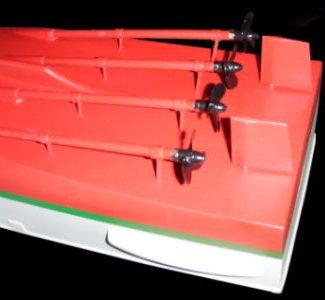 Here is one major improvement in the look look of my Schnellboot:
The photo at the left is the way I first built the model: Three propeller shafts and three rudders.
The photo at the right shows the re-build of this area: Four shafts and two rudders. This was accomplished by purchasing new shafts and smaller propellers and making new rudders. The bottom of the hull is changed significantly in the center skeg and the elimination of the rounded bilge and converting the edge to a hard chine.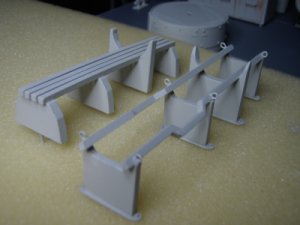 Another example of the wrong information from the kit manufacturer is the torpedo tube racks. The photo at the right shows both one built from the kit's instructions (left) and one built using photos and drawings (right).


Downloads

I have four PDF documents for modifying the Graupner kit. Select those below to download.

1. Changing to four shafts and two rudders.

2. New radar dome base.

3. Modifying the rest of the model:
A. Instructions
B. Drawings
4. Running (motor control) Schematic


- Contact me if you want free copies of any of these above documents.

- I also have a lot of sketches, drawings, and photos - free via email.

(The last document (no. 3A & 3B above) is about 95% complete. It will be progressively updated until the model is completed.)