Click on the photo above, forward turret, pilot house, radar, engine house, rear turret, or aft deck. This will open a window to see a close up (printable) view of those respective areas.


---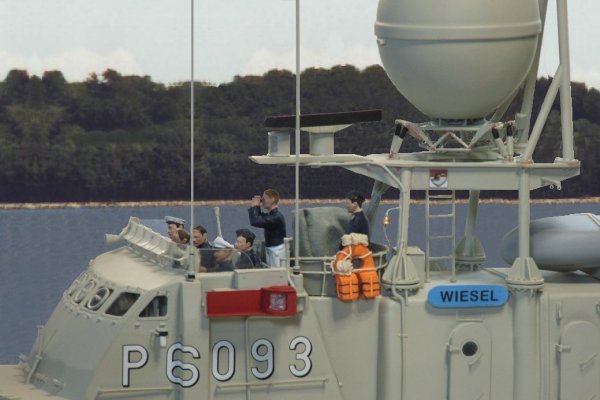 ---
Why model a Zobel Class boat?
Years ago I saw this model by Graupner in an issue of "Model Boats" and liked it! When the type 142A modernization came out in the model I "had to have it." I purchased the kit in London and had it shipped to Florida. Years later I decided to finish the kit, but now with the internet and photos of the original boat available, I found the kit had a lot of shortcomings, mainly missing details and being wrong in many places.


But what is the magnetism of the Zobel class boats?
The size of this model is about right in order to have a model that shows numerous details. If you want to build a model about 42-inches (107cm) long, is it better to build a battleship at a smaller scale (about 1:225) or a gunboat like the Wiesel (1:40)?

My preference is the smaller ship, the gunboat. The larger prototype (full sized ship) would have to sacrifice a lot of details (nuts, bolts, etc) whereas the gunboat can have these details to the enjoyment of the viewer. Think of even trying to have figures at 1:225 scale, about model railroad "Z" scale. Its just more realistic and allows the viewer to really look at the model.

Perhaps the most modeled smaller military craft are the WW-II U.S. "PT Boats." The Zobel boats are almost twice the length but still offer the viewer to look at a high speed military boat with torpedoes and open turret guns. The Zobel boats carried an abundance of communication antennas, radar systems, and a washing system for nuclear warfare fallout. The sleek hull contrasts with a odd shaped superstructure that was designed to allow deck space for four torpedo tubes in the early configuration.
"It's like a WW-II U.S. PT boat being morphed with a modern day gunboat."
This site page was updated October 19, 2011