LewsModelBoats.org
is a

not

a commercial web site. Lew is a scale model builder hobiest. Views on this web site are opinions of the author and not driven by any commercial entity. Opinions are welcome - by mailing Lew (see contacts). Copyright 2017 Lew's Model Boats.
Java Script used on this site (

set your browser to Allow Blocked Content

). If drop buttons do not appear select the "Contact & Links" button for help.
Graupner
TM
kit #2145 -
"
Schnellboot
"
- Correcting Errors and Omissions
Note to new kit buyers:
Do you want your Zobel Class "Schnellboot" to look right?
>>> DO NOT PROCEED WITH CONSTRUCTION <<<
until you have all of the correct information. Read on (below).
Note to kits already built:
Want to make cosmetic changes to correct errors and omissions?
Go as far as you dare! Read on (below).
---
First, about the Graupner semi-scale kit #2145

At first glance at the advertisements and the pictures on the kit's box, one would be led to believe that this is an accurate scale model. However, when building the model and comparing it with photographs of the real Zobel class "Schnellboots" the buyer will realize that
this kit is a
semi-scale
model
at best.

Personally, I don't understand how Graupner could produce such a kit and not make it right. Sure, there are modelers that like to "super-detail" their models, but this manufacturer makes it difficult for the modeler to have a decent starting point. Too bad when they re-introduced the kit in 2008 they didn't change their tooling to correct these errors.

The kit contains a vacuum formed hull, superstructures, gun turrets and bases, radar dome, storage bins, and a variety of other small parts, all made out of ABS plastic. It also contains steel and brass wire, wood dowels, cardboard for the torpedo tubes, and partially cut-through plywood parts. The accessory kit contains rail stanchions, bollards, and various other parts. The running gear contains three motors, prop shafts, props, and rudders.

---
What the semi-scale Graupner kit looks like completed (per the manufacturer)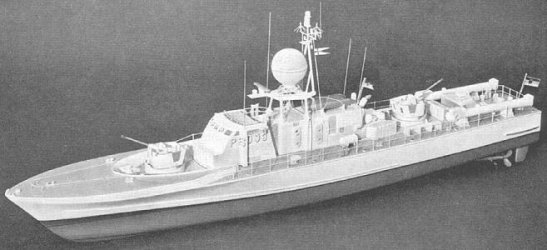 Shown at the right is a photo of the completed kit taken from Graupner's instructions. Below, are four main categories of concern:

Major errors in the kit.

The use of poor substitutions for details.

Missing details.

Missing items, parts and parts.
These are the opinions of the purchaser and builder of this kit, who used kit assembly instructions compared to actual photos of the real "Type 142a Zobel Class" Schnellboots. This is site intended to aid other builders of this model to improve their finished models.
Briefly...

There are major errors in this kit

along with poor replication of parts and many missing details!

...too many problems to list here.

See "Modifying the Kit" on this site for more information.
This site page was updated June 19, 2008