German Marine Schnellboote
Wiesel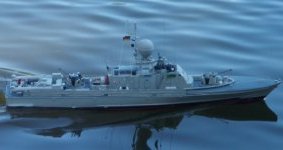 A Zobel Class type 142a "Schnellboot"
this started out as a Graupner kit build but has been severely modified to reflect the real boat. A lot of info is here for others on how to modify and super detail this boat.
(1/40 scale)
Springer #1 & #2
Link (picture to be added when done)
Two Springer tugs based on the Zippkits model kit.
(1/16 scale & 1/25 scale)

(planning stage- future build)
M.V. David Sizer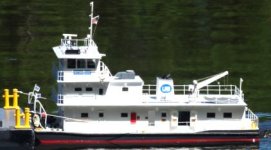 A scratch built towboat that has been modified and improved in looks and performance. Also includes a scratch built barge.
(1/35 scale)

PT -Gunboat
PT-61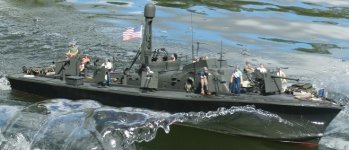 What started out as a regular Elco 77 foot PT boat (Frank's Mosquito Boat Hobby kit) is now a reflection of the PT-61 as the real boat was modifiedto be a gunboat in October 1943.
(1/20 scale)
M.V. Arne Christiansen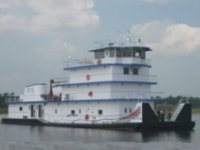 This will be a
model of a Towboat with two z-dives and will be entirely scratch built. A series of 200 foot barges will also be scratch built.
(1/35 scale)
(planning stage- future build)
Jet Thruster
popered speedboat
(name)
In progress link here
Homemade 3D printed jet thruster in a scale model speedboat (1/12 scale)

(in progrees - current build)
Elena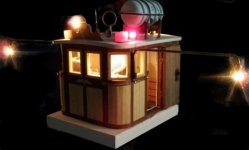 A 1950's British Fishing Trawler based on the Artesia Latina kit "Helen" with plenty of modivications and additional details.
(1/20 scale)
LCM (3)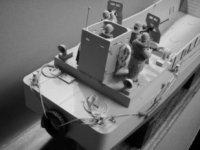 A WW-II LCM Landing Craft
based on the
Italeri kit. The kit was intended for display only but has been modified to be operational. It includes a 2-1/2 ton truck and a full crew.
(1/35 scale)
Steam Tug (Austria)
Frederic Mistral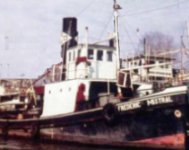 A 1915 steam tug built from the kit
Duna by Anfora. This is actually the Frederic Mistral which still operated on the Danube River. The model is under construction but pending other model builds.
(1/40 scale)
Rescue Boat
Miss Amelia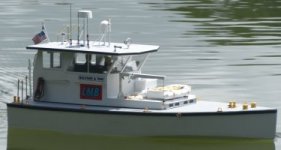 A
fun project, this boat (ex-balloon boat) has a wood hull that was given to me. The hull has been modified and has a new deck and structure, both scratch built. It also has a removable plow to push (rescue) other boats and serves as the SSMBC rescue boat.
(~1/20 scale)
Despatch No. 9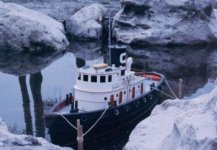 My first R/C boat (~1973), a 42" long scratch built version of plastic kit (scalled up) tug. It has a fiberglassed balsa hull, and used a Heathkit radio for controll. It is now retired.
(~1/25 scale)
Building the ironclad
"USS Monitor
"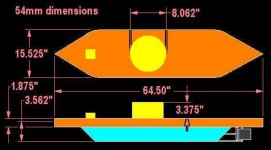 Good information to help anone who wants to build a model of the ironclad Monitor. It was my intentions to buil one but other boat style have taken over.
Building a Civil War
"Ferry -Gunboat"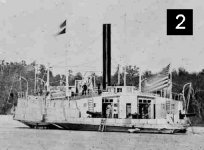 Like the Monitor, I was going to build a Civil War gunboat (ferry conversion) that was impressed and modified by the navy to be a gunboat. I am making this informationavailable if you are interested in Civil War ships.
50/800 "Marbleheads"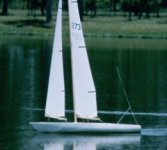 My old competition R/C sail boats.
Adding a crew
to a model boat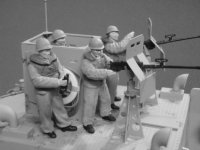 One of the important features of a true scale model boat or ship, unless the ship is to be a static display, a crew is needed. It is truely inane to watch a boat or ship move without a crew.
- Tips, tools, workbench...

...and more!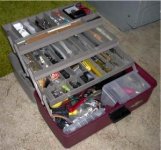 If you are new to RC modeling (not just boats), you might want to have tools with you where you operate. Also, some options for you shop setup are here. (Check the tools and accessories button on the top for more.)